Mostbet Aviator Game
The Mostbet Aviator game is one of the most popular titles on the platform right now. It's a fast-paced game that has received a lot of positive attention from players in India and around the world.
This is the game that has skyrocketed Spribe, the genius developer behind this game, into legendary status. So, what is it about Mostbet Aviator that has thoroughly enamoured players? It's the degree of control that they have over whether they win or lose.
So now, you're faced with one important question: Will your desire to generate massive wins make you lose it all? This is a great game of control, strategy, and balance. You need to know what risks you're willing to take to get the biggest potential wins possible.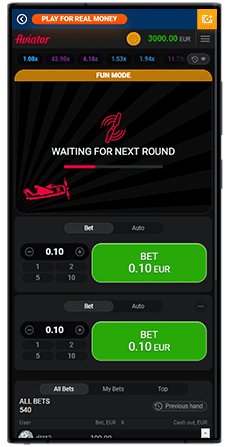 See the most important details about Mostbet Aviator in the table below:
| | |
| --- | --- |
| Name | Aviator |
| Game Developer | Spribe |
| Salient Features | In-Game Chat, Live Bets, Live Statistics |
| Promotional Tools | Rain Promo, Free Bets |
| Available in India? | Yes |
| Available on Mobile? | Yes |
Aviator Mostbet is a single-player game that thoroughly incorporates various features commonly seen in multiplayer modes. This includes the in-game chat that lets you talk to other players who are also betting and view live statistics where you can see the biggest wins today, for the month, or for all time. If you've already been playing at Mostbet, you know that there are 40 promotions and bonuses for you to claim. But when you play Aviator, you also get two more bonuses exclusive to the game.
Are you interested in playing Mostbet Aviator? Then, you've come to the right place! We're going to talk about everything you need to know about the game, from the rules to the specifics of how to play, various strategies you can employ, and much more besides. By truly understanding and applying everything that you read here, you will be able to maximise your odds of winning big from this game.
How to Play Aviator on the Mostbet Website
Are you excited to try out Mostbet Aviator? This quick and fast-paced experience won't disappoint. Before you place your first bet on this game, make sure that you're logged into your account and have funds that you can use for your wagers.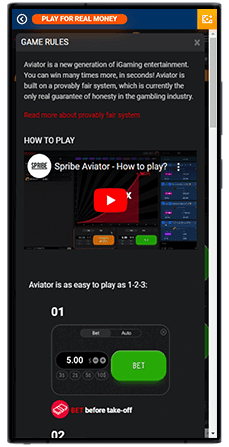 Once you have that taken care of, you can proceed to the following steps:
Click on the Aviator Logo. Because of how big of a sell Mostbet Aviator is, you should find it along the other major game categories like Casino and Live Casino;
Place Your Bet. Once the game loads, you can start placing your bet for the next round. You can also set two bets at a time. Here, the minimum for each wager is 0.10 EUR, so please be aware of the current conversion rates and make sure you have enough in your account;
Cash Out Before the Plane Leaves the Screen. The multiplier climbs higher the longer you wait, but once the plane leaves the screen, it's over! Make sure to withdraw before that moment so you can keep your winnings.
The game is really that simple! After you win (or lose, but hopefully not!), the next round starts, and you have a chance to garner massive rewards. Keep this in mind if you want to play for real money: if you don't have enough money in your account or your login, you'll automatically be taken to the Mostbet Aviator demo version.
Manual and Automatic Betting
Based on what they're called, it's pretty easy to uncover the biggest difference between manual and automatic betting. For manual betting on Aviator Mostbet, you set the wager for every round and determine when you want to collect your winnings. Meanwhile, automatic betting means you immediately join every round with a pre-set wager amount. You can even set it when you want to redeem your winnings.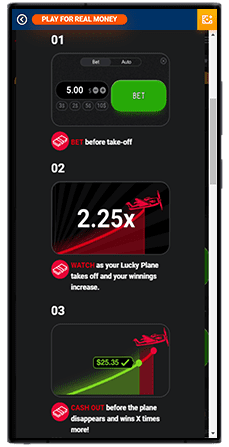 To help you decide which one to use, refer to the table below:
Manual Betting
Automatic Betting
 You want to constantly change your bet amount.

You want more control over when you cash out.

You plan to pay full attention to every round.

You plan to use the same wager amount for every round.

You want to collect your winnings at the same multiplier without having to monitor your screen.

You don't want to miss out on betting on any round.
Whether or not you're using your Mostbet Aviator login, the manual one is what's activated by default. If you decide that Aviator automatic betting works best for you, here's how you do it:
Go to the "Auto" tab of the bet area to set your desired bet amount.
Toggle the "Auto Cash Out" and set the multiplier at which you want to withdraw your winnings. (This is optional).
Click the blue Autoplay button to set the number of rounds and the conditions when the Aviator Mostbet automatic betting will stop.
Strategy for Playing Aviator
Whether we're talking about Aviator or any other game, we don't recommend coming in without a strategy. Having one means that you're keeping track of important betting metrics like maximum loss and maximum bet. It helps you avoid betting more than you can afford to lose on Mostbet Aviator.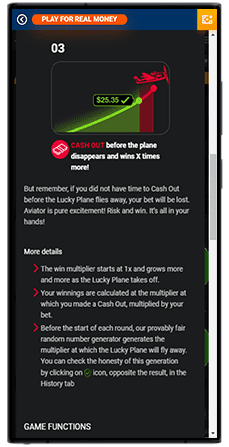 Players have long been searching for hacks on the game, but none exist. So, instead of looking at all the YouTube videos guaranteeing to be your way of beating the Mostbet Aviator game, focus on creating a strategy instead. The strategy you decide to use will be informed by your risk appetite, betting budget, and how long you plan to play. Here are a few strategies to help you get started:
Balanced Risk Strategy. Play the first bet on Mostbet Aviator as you normally would. For the second one, set a low multiplier cashout (like x1.05, or whichever you deem is still low) to give you a little bit of cushion if you lose the first;
The 2:1 Strategy. Double your bet amount every round to get a higher chance of ending the game session with a win;
D'Alembert System. Increase your bet by a set amount (like by 0.10 EUR) when you lose. Then, reduce your bet by the same amount if you win.
These are the more basic ones, but there are so many more betting strategies that you can apply to the Mostbet Aviator game.
Advantages of Mostbet Aviator
If you've been participating in various forms of online gambling for a while, you'll know that there's no shortage of options. There are so many reputable software developers constantly releasing new titles and presenting innovations to the industry. But despite the tough competition in this field, Mostbet Aviator manages to outshine a lot of releases.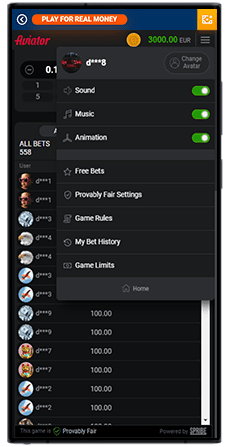 These advantages place this game at the top of all options available:
Each Round Is Finished Quickly. This means that even playing over a short span of time, the Mostbet Aviation game will still make it possible for you to win big;
You Have a Lot of Control. Chance is still a central element when playing this game, but you have a lot of say here on how much you can win;
It Appeals to Players Regardless of Their Risk Appetite. After your Mostbet Aviator login, you can employ a conservative betting strategy that better protects your budget while still opening the chance to land decent wins. But if you're willing to risk it all and wait for a larger multiplier, you can do that, too;
You Can Talk to Other Players. There's a chatbox where you can communicate with other players. This can be a good place to discover the Aviator Mostbet strategies that have worked for them before.
Rules of the Game Aviator
Are you convinced that this game is worth spending a few rupees on? Great! At this point in the article, you already know how you can play and win.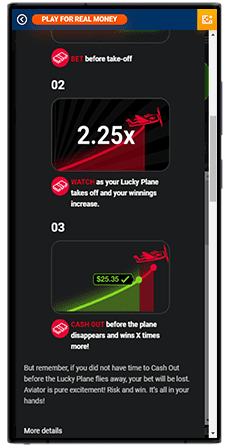 But to better inform your strategy-making process, you should also know a few rules that can help make playing the Mostbet Aviator game much smoother:
The results of each round are based on the server seed plus the first three bets of the round;
You only have a few seconds to set your bet. Once the plane takes off, you can no longer bet or cancel your bet;
The multiplier can be anywhere from x1.00 to x100;
Just like any RNG game, you can leave Mostbet Aviator at any time and get your winnings right away;
You can set your wager amount anywhere from 0.10 EUR to 100 EUR. Its equivalent in INR will depend on the exchange rates at the time of bet placement;
If you're placing manual bets, make sure to click "Cash Out" before the plane flies away to secure your winnings for that round;
For automatic bets, you initially set certain parameters, like your desired multiplier for auto cashout and your bet amount. After that, you don't need to do anything unless any of the conditions for stopping the auto betting have been met.
Spribe: The Aviator Game Developer
If you've already tried the Mostbet Aviator game and are loving it, you have Spribe to thank! This company is focused on providing innovative iGaming products, so we'll definitely see more of them in many casinos in India and all around the world in the future. With their team's experience in both casino management and software development, it's no surprise how well the company is doing despite only being founded in 2018.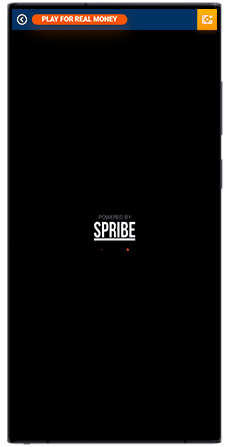 Since the beginning, their mission has been to create cutting-edge products. And considering the massive success that Mostbet Aviator enjoys right now, it's safe to say that they have accomplished this mission. They have also grabbed the attention of various established software developers. Relax Gaming has just forged a partnership with them and landed the sought-after Powered By Relax.
Through Aviator Mostbet, Spribe is making itself known in this industry. If you want to, you can learn a little more about Spribe through the table below:
Founder and CEO
David Natroshvili
Number of Licences and Certifications
18
Cloud Hosting Used
Amazon Web Services
Recognitions
Crash Game of the Year, Breakthrough Game of the Year- Sigma Awards 2022
Casino Software Supplier – EGR B2B 2020 Awards
Casino Content Supplier – 2021 EGR Awards
Other Spribe Games
Right now, Mostbet Aviator is easily the biggest seller for this software developer. But don't get it wrong; Spribe definitely has more up its sleeves. As of writing, it has a total of 14 games, which are divided into two categories: Turbo Games and Poker & Skill Games.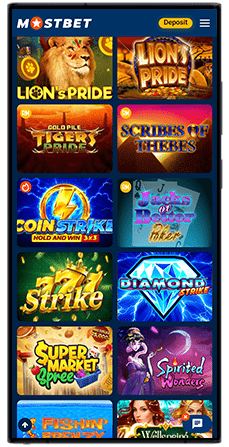 Created to appeal to Generation Y, the titles in the Turbo Games category present you with a mix of familiar classics as well as innovative releases. This is where Mostbet Aviator is categorised. The other titles here include:
Mines;
Dice;
Mini Roulette;
HiLo;
Plinko;
Goal;
Keno;
HotLine.
Meanwhile, Poker and skill Games are considered advanced because you need to truly understand the mechanics in order to win. The titles under this category are HTML5 responsive and are optimised to work well on mobile devices. They include:
Poker;
Backgammon;
Bura;
Domino;
Seka.
If you're just starting to immerse yourself in the world of online gambling, you may not be familiar with how the games work. Players needing a little bit more practice before betting real money don't need to worry. By going to Spribe's site, you can try out the games so you can gain the skills and confidence to play for real and win. But for Mostbet Aviator, you can use the demo mode right on the casino site.
Registration and Bonus for Playing Aviator
To get started with playing Mostbet Aviator using real money, you first need to have an account with Mostbet. Fortunately for you, the registration process can be done in just a few minutes.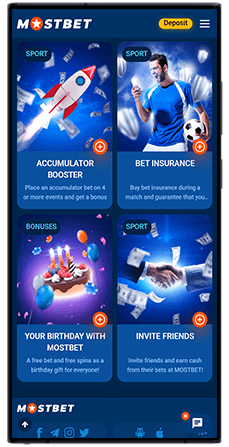 Once you're at the official site, proceed with the following steps:
Click "Register" at the upper-right area of the screen;
Select One Click, Via Mobile, Via Email, Via Social Networks, or Extended as your registration method;
Fill out the details necessary for the method that you have chosen;
If applicable, click "Sign Up".
That's it! After completing these four steps, you'll already have an account. This entitles you to all the benefits that the operator offers. But just to avoid problems down the road, provide your verification documents even before they ask for them.
As for the bonuses, you have access to all the rewards and promotions. Just pick what you want to qualify for and complete the necessary requirements. And with Mostbet Aviator, you will also have the chance to get even more bonuses:
Rain Promo. Get free bets from the chatbox that are given out at random times. Just click "Claim", and you'll be able to use your reward on the next rounds;
Free Bets. There's no telling how and when you'll get these. If you're a new player, you may be more likely to be granted free bets so that you'll play more.
FAQ Mostbet Aviator
When was Aviator created?
Aviator was created in January 2019.
Why is Aviator so popular?
Aviator is very popular because it's fast-paced and gives you control over how much you can potentially win.
What is the minimum bet in Aviator?
In Mostbet, the minimum bet for Aviator is the current equivalent of 0.10 EUR in the INR currency.
What is the maximum win in Aviator?
The maximum bet is 100 EUR. So, because the multiplier goes up to x100, it's possible for you to win 10,000 EUR in just one round.
What bonus does a new player get for playing Aviator?
There's no guarantee of getting any bonus within the game itself. However, Mostbet has a welcome bonus where a new player can get a 125% match on the first deposit plus 250 free spins.